JSIP
Moraware SlabSmith Integration Platform
JSIP Syncs Data Between Slabsmith and Moraware.
If your fabrication shop is using Moraware and Slabsmith, our Slabsmith Integration Platform (JSIP) can dramatically improve your operational efficiency and data accuracy. With a single entry, inventory and project status data are synced automatically between Moraware Systemize and Slabsmith.
JSIP requires the Systemize Inventory Edition.
Improve Your Fabrication Shop's Accuracy & Efficiency
Never log into Moraware to create a remnant again. Calculate valuation instantly. Always know how much material has been allocated and which slabs are still available. JSIP saves our fabricator clients time and money — an average of 600 data-entry hours a year!
Our Moraware Slabsmith Integration Platform improves operations by:
Simplifying Data Entry

Reducing Data-Entry Costs

Expediting Information Delivery'

Avoiding Mismatches

Improving Accuracy

Eliminating Redundancies

Streamlining Remnant Creation & Tracking

Allowing Comparison of Order and Actual Dimensions
New to Slabsmith? Here's what it does for countertop fabricators.
The Slabsmith "Basic Bundle" is the most common initial software purchase for a Fabricator. It includes all the features required to create digital slabs, to layout your templates on your digital slabs, and to manage your slab and remnant inventory, plus the Admin module for customizing the way Slabsmith works within your company. The Slab Maker™ module's unique calibration technology ensures that your digital slabs maintain accuracy in every important detail.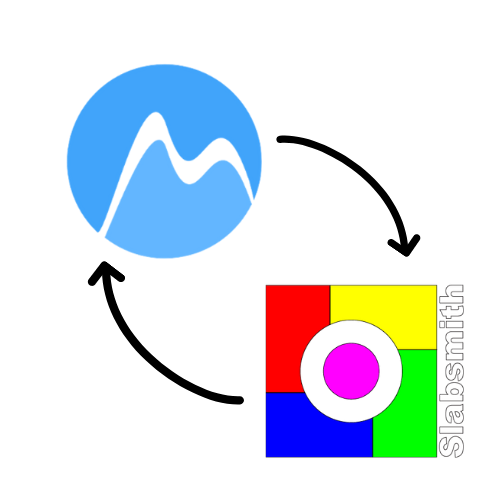 Remnant Creation & Tracking
Create the remnant and barcode serial number label in Slabsmith, then automatically pull those remnant serial numbers back into Moraware inventory so they can be tracked and managed.
In addition to automatic syncing (including serial numbers), JSIP can be run manually to accommodate immediate needs. Complete rush orders with minimal data entry. If slabs have been received in Moraware and need to be photographed right away, essential data can be sent immediately to SlabSmith.
When implementing JSIP, operators should take care to use the same product and color names in both Moraware and Slabsmith to ensure that inventory syncs properly. The DataBridge team will walk you through this and many other customization steps to implement the ideal JSIP configuration for your business.
JSIP helps countertop fabricators save time, effort, and manpower while increasing accuracy and efficiency. If you've been using Moraware Systemize without it, contact DataBridge Integrations for more information.